Free Italian Zoppini Charm Bracelet
The Italian Zoppini Charm Bracelet stretches to fit over your hand for ease in taking them on and off. Our italian zoppini charm bracelet has 14 links and is available in your choice of Shiny, Matte, Diamond and Pave design. Your first italian charm bracelet is free with the purchase of a zoppini charm. Each additional zoppini charm bracelet is $7 for the matte or shiny finish and for the diamond or pave design.

Get the Free Italian Zoppini Charm Bracelet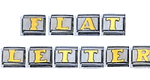 Zoppini Initial Charms

Create a personalized Zoppini Initial Bracelets with these beautiful initial charms. Write out a whole name in the bracelet, of just use the initials. These bracelets make beautiful personalized gifts!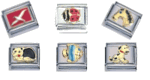 Zoppini Pink and Purple Butterfly Charm

The coolest Zoppini butterfly charms in many colors are available. We also have cats, ladybugs, dogs, turtles, horses and many other animals charms available.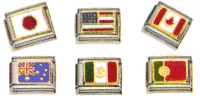 Zoppini Charms: Zoppini National Flags

USA Flag, Italy Flag, Europe, Japan, Germany and many more flags. Buy the charm of your contry and wear it on your zoppini braclet. Buy beautiful and patriotic Zoppini Italian charms.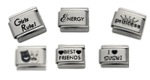 Laser Italian Charms

These laser charms are brand new. Laser italian charms are hand laser etched charms. There are so many to choose from - there is a Teacher Charm, Balance, Ballerina, Bar Mitzvah, Cheers, Comfort, Cowboy Hat, and many more.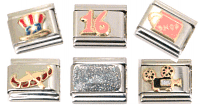 Zoppini Charms: Zoppini Patriotic Charms

Be patriotic with these great charms on your bracelets. Select from these Zoppini Charms: USA In Red White & Blue, Ribbon - Red White Blue, Statue Of Liberty, I Love NY, Twin Towers, and more.



Zoppini Charms: Zoppini Birthstones Charms - One for Every Month

Is it a birthday gift? The coolest birthday gift are these beautiful Zoppini Italian Charms on a bracelet. They are birthstones, so they are very appropriate for birthday gifts.



Zoppini Italian Charms Watches
Price........ $139.95

Select from the following original italian charm bracelet watches: Circle Light Blue, Circle White, Oval Black, Oval White, Rectangular Blue, Rectangular Off-White, Square Black, Square Gray.

These charm watches make wonderful gifts for any occasion.
Italian Charm Bracelets
Cool and very popular italian modular charms and italian charm braclets. Really great looking italian charms for your italian charm bracelet! Just add the silver charms to create your very own, personalized italian charm bracelet!

Start Building Your Italian Charm Bracelet, from JJ Kent


Looking for more zoppini italian charms? There are many more: hobbies, professions, letters, numbers, nautical, entertainment and more.
Click Here for More Beautiful Zopini Charms